Thursday, April 06, 2006
Dena gets her groove back
Sometimes it's difficult to get back into the swing of things when you've been disconnected for even a small period of time. It's that way with blogging. One day you're posting, reading, commenting. A couple of diversions and you are totally out of sync with all of it. You quit posting, you rarely read, and you seldom comment. Dragging yourself back into takes a concerted effort. You're not sure if it's something you have the energy or time for, but then you realize that you miss the friendships that were forming, and decide to hit it full force, knowing it's the only way you'll get back into the groove.
A couple of weeks ago I got attacked by some viral thing. I was out of commission for a couple of days. I then had to get ready for my upcoming trip to Vegas, and then I was actually in Vegas.
Part of my trip to Vegas included meetings some friends that I had met through the internet (gasp!).
We met about 5 years ago, on an internet community board for women expecting babies in July 2001. Since then we have gone beyond discussing the habits of our kids to sharing things about our lives that some of us don't even share with our closest friends. Now we cannot imagine life without each other. About 2 years ago one of the women underwent a personal crisis and wanted to leave the group due to the public forum of the board. Instead of allowing her to leave we moved to a private board so that we could continue to support her. One member (me) was diagnosed with cervical cancer about 2 years ago. The rest of us put together a care package of cards and letters, which she was truly surprised and touched by. One woman came to the realization that her husband was abusing her daughter, and our hearts went out to her as she struggled with this horrible reality. During happier times we have rejoiced in the abilities of our children, and shared sweet and silly stories about them. Through pictures we have even helped each other choose clothing for special events. A few weeks ago, one woman, 17 weeks pregnant, told us that she had lost her baby. If you can imagine about 30 women across the continent, brought to tears and mourning with her, then you can imagine how special these friendships are. Through all the trials and tribulations of life, we have been there for each other. We are very different women, religious to agnostic, conservative to liberal, stay-at-home mom to working mom, from many socio-economic backgrounds, but these friendships have shown us how important it is to embrace our differences. We have had our disagreements of course, but through them we have managed to learn from one another, and to become even stronger women. Although we are not able to meet for coffee, or lunch, you can bet that we are chatting away, at all hours, and thinking about each other long after we have signed off our computers, sending our love and support from across the miles.
Of course, I have to share a pic of some of us in Vegas. Here we are before dinner at Mon Ami Gabi.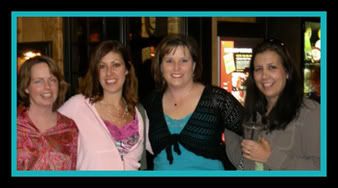 dena at 9:45 AM
15 Comments