Sunday, February 19, 2006
Spice it up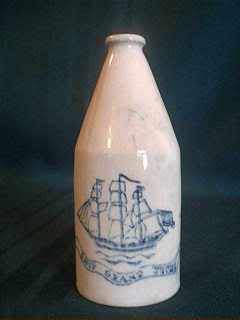 I've read that Old Spice is making a huge comeback with college-aged men and men in their 20s. Old Spice, the scent of almost all Daddies during the late 60s and early 70s.
I haven't thought of, or smelled. Old Spice in years. Once I read about the comeback, a vivid memory of my Dad, looking movie star handsome in his suit and white starched shirt, leaning over my bed to kiss me good bye, his neck smelling of just-splashed Old Spice, quickly entered my mind. He was my hero.
Each Christmas my gift to my Dad was some sort of Old Spice product. A bottle of cologne, a shaving mug and brush (the lost art of latering up with a brush is another story), a bar of soap. Each Christmas I felt the same anticipation, and each Christmas he smiled the same pleased-as-punch smile.
One Christmas I made the huge mistake of veering off-track, and purchasing Hi-Karate. My Dad wore it a couple of times, but went right back to using his Old Spice. I knew I had made a poor decision, and for Father's Day, along with the traditional gift of a Banlon shirt and Bermuda shorts, I also added a bottle of Old Spice.
Father's Day isn't too far off. I already know what one of my Dad's gifts will be. A bottle of Old Spice. I can't wait to give him a hug, the first time he wears it, and remember that smell all over again.
dena at 8:30 AM
18 Comments