Monday, February 06, 2006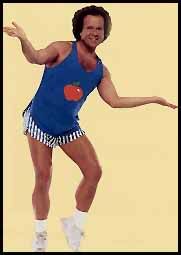 Richard Simmons scares the hell out of me. A couple of years go by, and you don't see or hear anything about him. You haven't thought of the creep in years, and then one day you turn on the televsion, and there he is again. Always hanging out with a new 400 to 500 pound person that has not walked more than two steps in the past decade. Once again, he's in your face. Doing stretches with fat guy of the year. Hugging fat guy of the year. Inspiring fat guy of the year. And finally the crying...with fat guy of the year.
I'm all for motivation. I am all about emotions and showing them. But Richard Simmons is just creepy. Creepy to the point that I would never leave him alone with my kids. Heck, I wouldn't even let my child see a picture of him out of fear of the possible nightmares it could induce.
Of course Richard is just one of many, many creepy "I can fix your life" people out there. Dr. Phil is so creepy that when I googled
dr phil is creepy
, I got this from
here
:
In this month's "Open Letter" column, GQ tells Dr. Phil to sit down and shut up:

Here are actual questions you asked the presidential candidates when they appeared on your show. To Bush: "Were y'all spankers?" To Kerry: "Did you ever spank the girls?" To Bush: "Did you spank them?" To Kerry: "What did she do to get spanked?" Hey, Dr. Phil, try to keep it in your pleated pants.

(Ha. Keep it in your pleated pants. That's good stuff.)
Almost as bad as Dr. Phil is his wife. I'm not certain which is worse though. Dr. Phil promoting his wife and giving her merit as a psychologist, or Robin's belief that she has the credentials to give people advice of any sort.
At least I haven't seen an infomercial with Tony Little and the Gazelle glide machine. For that I can be truly thankful.
dena at 7:48 PM
9 Comments