Sunday, January 15, 2006
Why I hate Ty Pennington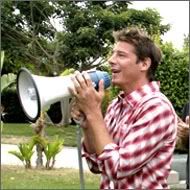 Extreme Makeover Home Edition, and its cast of over-dramatic, beautiful people make me want to hurl.
Intially, I got suckered right on in. I watched the episodes of the family with the deaf child, the star basketball player that was paralyzed, and the Lori Piestawa family/Jessic Lynch two-hour special. And of course, I cried through each of the shows, and couldn't wait for the moment when the entire town screamed "Bus Driver, Move That Bus", and start crying all over again when the family sees the new house for the very first time.
But then I got past all of the weepiness, and I really started watching. I started to really pay attention to the close-ups as Ty explained the hardships of the latest family. I looked more intently at the faces of the crew, and I looked at their practiced, pitiful looks of anguish, and the tear-filled eyes. I watched as they tilted their heads just slightly, and shook their heads with such tenderness. And that's when I vowed to quit watching this crap. Almost as pathetic as the face shots are their moving attempts to gain inspiration for certain rooms. Remember the time Ty and a couple of the others climbed an Arizona mountain to try and gain inspiration for the Native American tribute room for Lori Piestawa. Now that was caring.
Why couldn't Ty just stay on Trading Spaces? The whole point of the show has gone down the toilet. It's no longer about helping people in need. It's about how great Ty and the rest of the Extreme Makeover Home Edition crew are. How caring, how wonderful, how giving. Blech.
dena at 9:03 PM
14 Comments