Wednesday, January 18, 2006
Wednesday Whispers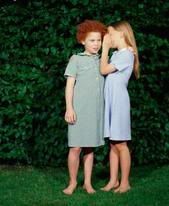 I woke up in the middle of the night, and ate a Hershey's Kiss. I needed that bit of chocolate.
I don't trust women with giggly, girly, practiced laughs. I like loud, raucous laughter. Giggles make me think you don't get it, or that you're afraid to laugh. Or that you're only laughing because you want people to look at you.
The new receptionist at work is plucking my nerves. She doesn't get that I'm a last minute person, and almost seems to take joy in saying, "Ooooh, I placed an order yesterday. I wish you would have said something then." Just order my stuff bitch. I don't care if you have to make another phone call today. If you want everyone to give you their orders on time, then send out a freaking e-mail the day before you place the order. It's not rocket science.
I like burned microwave popcorn. People in my office always bitch and moan about the smell of burnt popcorn. I never fess up.
dena at 9:36 AM
9 Comments