Monday, January 23, 2006
I'm a loser because...
I'm wearing a pair of reading glasses that have so many scratches in them that in order to see what I'm reading I have to focus my eyes between the lines, the scuffs and the chips. It is beyond the normal realm of difficult because the scratches on each of the lenses are at different levels. However, I've bcome quite proficient at squinting my eyes and tilting my head to make the most of this pair of glasses.
Here they are: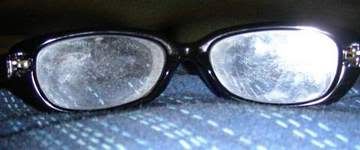 I kid you not. I cannot read a word without them, but I go to extreme levels of excess to read with them. I told you I was a loser.
I used to have an extra pair, but they were lost to a habit of mine. During conversation, I tend to take hold of my glasses by the ear piece and spin them around. During one of my most active spin sessions, the extra pair of glasses snapped at the bridge. For an entire day I wore the gasses anyway. I just kept my head slightly upward so they would rest on my cheekbones. Yes, I did that.
Now, before you all start taking up a collection to buy me a suitable pair of specs, please understand the real reason as to why I keep wearing these glasses. This is what makes me a loser. It's the fact that I am too freakin' slack to a) call the doctor and make an eye appointment; b) go to the eye appointment; c) use my time off from work for something that I need in order to do my job; and d) fill out the long claim form required by my vision insurance. Yes, I even have vision insurance.
Could I be a bigger loser?
dena at 6:26 PM
15 Comments