Friday, January 06, 2006
Friday's Feast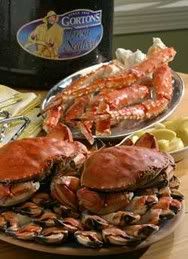 Appetizer
Have you ever seen a ghost or an angel?
No, I haven't. Not in the true, in-your-face sense.
Soup
What is your favorite board game?
Monopoly has always been my favorites, but I love playing games. If only I could find someone who would play along with me.
Salad
What was the last movie you saw that made you cry?
The Family Stone
Main Course
What would you do if you had 3 months off from your job?
I would beg that I could wait for the weather to warm up before I got my three months off. I'd go to the pool, take Ethan swimming in the bay, go to the Ocean, take walks, get up early and do things outside. I'd do a whole lot of playing. And I'd let Ethan take the three months off from school.
Dessert
What kind of shoes are you wearing today?
Brown boots with a tall, square heel.
dena at 7:18 PM
7 Comments