Friday, January 13, 2006
A first time for everything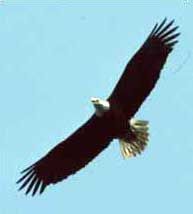 Today I caught a ride with a coworker to grab a bite to eat. About an eighth of a mile from our office I noticed a huge bird flying overhead. Several different species of water birds make their homes near my office, but this one looked huge and was flying right toward us as we made our way down the road. I remarked at it's size, thinking it was a heron with a large wing span, but it looked nothing like any heron or egret I'd ever seen. My friend blew my excitement off with "it's a hawk", but I couldn't take my eyes off it. It's size mesmerized me. I looked up as it was directly overhead, and saw the tell-tale white head, and large size. The wing span of this bird was easily over six-foot.
People who know me well know that it doesn't take much to entertain and excite me. I was screaming. SCREAMING. My friend nearly ran off the road, and I'm insisting that she stop the car immediately. She didn't, but I continued to watch this indredible creature with amazement.
Before you start shrugging your shoulders, shaking your head or smirking at my excitement, please keep in mind that I have never seen a Bald Eagle in the wild, and also realize that they are not common in Virginia Bech. So uncommon that our local, twice weekly additon to the large newspaper publication actually reports Bald Easgle sightings.
I couldn't wait to get back to the office to share my joy, but before went inside I watched this bird circle around a bit, and as I watched I felt a little sad. During the drive back to my office I noticed that last bit of woods in this area had been cleared to make room for more offices, more warehouses and more homes. We are already over-developed, and I coldn't help but wonder if the joy I felt in seeing this bird was at the expense of this bird's nesting and hunting area.
Do you think we'll ever learn?
dena at 10:27 PM
13 Comments