Friday, January 20, 2006
Connections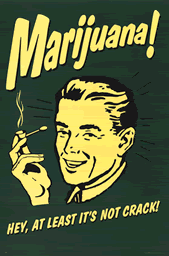 I read a study about people who commit non-violent crimes and pot use. Many people arrested during the commission of non-violent crimes openly admitted to smoking pot just before getting caught. Are pot smokers more likely to become criminals or are criminals who smoke pot more likely to get caught...what's the real connection?
Last night I went to a college basketball game. Each of the teams had a player over 7' tall from the Ukraine. Both of the players were born in 1987. Remember the Chernobyl nucelar disaster of 1986. Big kids, nuclear leaks...is there a connection?
Global warming, and an increase in the number intensity of hurricanes...is there a connection?
I can't think of a thing to write about. I hate the short nights during the winter. I don't like the cold weather. Is there a connection?
dena at 8:19 PM
11 Comments