Wednesday, December 21, 2005
What the hell?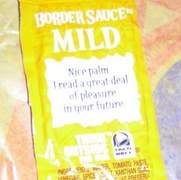 Taco Bell is now putting messages on their Taco Sauce Packets.
Things like:
Hello
Bike tires scare me.
My Sauce is an Honor Student at Taco Middle School.
Not to be used as a flotation device.
And the great message above that my husband got on his sauce today.
Looks like he's going to be busy this afternoon.
dena at 12:48 PM
4 Comments