Thursday, December 08, 2005
Thursday Thirteen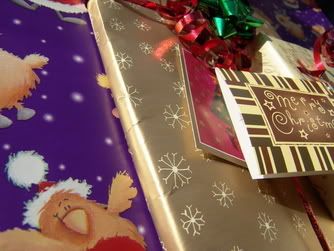 1. I wrapped eleven presents tonight. I've always done all my wrapping on Christmas Eve. I'm feeling pretty proud of myself.
2. I have a very good friend that is hurting right now. I wish there were more I could do.
3. Someone needs to explain the code for this Thursday Thirteen to me. I'm sure I could figure it out, but I don't want to use that much brain power right now.
4. Ethan's new bedroom furniture is being delivered on Saturday. We did not get the loft furniture. Adam was petrified at the thought of the lethal combination of Ethan, a ladder and an elevated mattress.
5. The "King of Coloring" spent over an hour coloring one picture. He's very creative with his color selections. It makes me smile.
6. Thinking about John Lennon today, and I'm sure joining thousands of other blogs who mentioned his genius.
7. I love that I did so much of my shopping online this season. It's so much fun getting all these packages delivered at work. I like the surprise factor involved in this style of shopping. So far I'm thrilled with my purchases.
8. A couple of fun shopping sites:
80stees.com
and
threadless
. Lots of fun t-shirts if you've got teenage/college kids to buy for.
9. My mother-in-law is coming over to celebrate Christmas on Sunday. She bought a house in Pennsylvania, and is closing on it at the end of the month. She's squeezing us in since she's leaving for PA on Tuesday, and won't be back in this area for three months. Once again I wonder what it's like to be in my husband's shoes. His family is so not normal. In fact, they are bizarre. Bizarre, I tell you. I'm sure Adam's father (and the third wife) will send some useless piece of shit to Ethan for Christmas. One year he sent him a $25 gift certificate to Sam's Club. What the heck?
10. It's 10:14. Ethan just reminded me that we forgot to open #8 on the Advent calendar.
11. Ethan warms my heart when he kisses me for no reason. Especially when he kisses my elbow, my knee or my ankle. It's so darn cute, and I just want to squeeze him.
12. I bought this stupid wrapping paper cutter at Target last weekend. I used it to cut the paper for three presents and then it quit working. After I did the first present, I was raving to Adam about it. Two presents later and I was complaining that it was the most worthless piece of crap ever. I wasn't lying.
13. Ethan sleeps with a menagerie each night. In his bed tonight: a sea turtle, three teddy bears, Batman, Spiderman, Darth Vader, a chick, Kermit, Elmo, and a black Lab. There's other stuff, but it's all piled on top of one another, and I can't make out the species.
dena at 9:23 PM
8 Comments