Friday, December 16, 2005
The quest for a new level of hot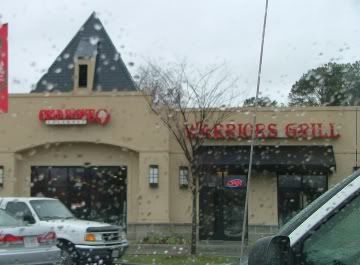 To me, there is nothing more motivational when trying to lose weight, than a diet buddy. Since Misty has been on this get healthy, eat right kick, it's become fairly easy for me to stick to the plan. We have been lunch partners for quite awhile now, and sometimes we don't eat as healthy as we should. We now have a newfound determination. Of course, that means we've now had to cut out eating at what has just recently become our favorite spot, The Table Talk Café, but it doesn't mean we can't eat in the same strip center.
This week we have eaten every single lunch at the Warrior Grill, a Mongolian style barbeque establishment. It's healthy. And they don't serve fries. Sure, it's quirky. The grill guys are adamant about creating your sauce. Guess what Wang Chung? I don't like OYSTER SAUCE. I have told you fifty fucking times to keep your paws away from my bowl when I'm scooping my sauce. I want one scoop of ginger water, two scoops of the garlic, one scoop of lemon water, one scoop of wine, three scoops of hot pepper sauce (two with juice drained and one with the juice in the scoop), two scoops of Oriental sauce (whatever that is), and two scoops of sesame oil. And then there's the wait staff. The Chinese ladies hover. If your glass is ¾ full, then they want to fill it. If you are down to one last bite on your plate, they circle your table like vultures waiting to take your plate the second that last bite is in your mouth, and before you set your fork down. As soon as they feel safe, they immediately swoop down and snatch the plate. It annoys the hell out of me. BUT…I live with the quirkiness. It's healthy, it's good, and we've seen results.
You want to know what's really amazing? Look what's right next to the Warrior Grill. Uh huh, you got it. And we haven't even gone in once. Not even for one of those teeny tiny free samples.
dena at 1:53 PM
4 Comments