Wednesday, December 14, 2005

Head on over to Soapbox's, and find the directions and info on this little picture share. She'll be hosting this little Thursday thing each week. And yes, I do realize that it's still Wednesday, but I like to do things a little differently. Please stop by
Misty's
and join in this Thursday game.
This Weeks Things:
01. Favorite Knick Knack or Art Piece in your house.
This is my favorite painting in my house. My aunt is an art consultant/dealer in New York City. She gave me this one as a gift. It was part of her collection, and one of many pieces that she has loaned to museums. I love anything that's modern 50s and 60s, and this was painted during that period.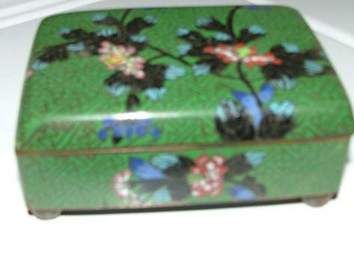 I'm not a huge knick knack person, but this is my favorite piece. This little enameled box belonged to my Grandmother. She got in in the late 1930s, and it was an antique even then. I just love it. It's a very deep blue inside, and very heavy. It could do some serious injury if I ever felt the need to hurl it at someone.
02. Where you blog from.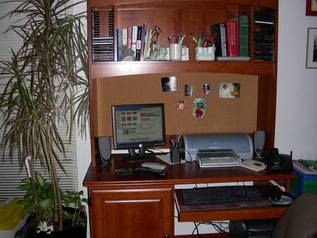 This is the home blog spot.
03. Your Christmas Tree or other Politically Correct Holiday Symbol.
The tree. Next year I'm doing colored lights. Big fat 1960's painted bulb colored lights.
dena at 8:16 PM
6 Comments