Sunday, December 04, 2005
Chuck E Cheese and Santa Claus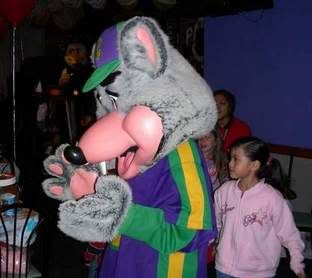 Is there anyone else who would prefer to have a hot fireplace poker shoved up their vagina, rather than attend a weekend birthday party at the Chuck E Cheese? Seriously? I can't think of anything that spells White Trash better than 700 raging kids with no supervision running from game to game, and ride to ride, while their parents guzzle draft beer from plastic cups. It's bad enough that I was one of a handful of parents actually watching their children in this
lawsuit waiting to happen
, but add germs as an ingredient and the overall appeal continues to diminish. I found the entire experience offensive. Sure, Ethan thought it was the best thing ever, but I was ready for a straight jacket by the time we left.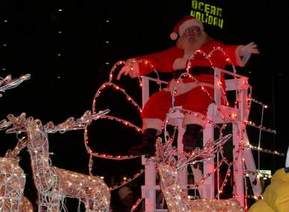 Attending a parade with a bunch of bundled up kids in strollers, while bands play Christmas music, and Santa waves to the crowd is a much more enjoyable way to spend an evening.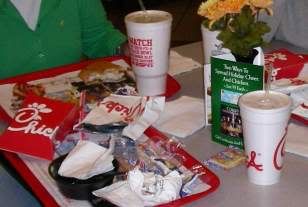 Oh, that and closing down the Chick-Fil-A. Yes, that's how we roll in Virginia Beach. We spend three hours shooting the shit in an empty Chick-Fil-A, while our kids rule the play zone. It's much safer to lick a soft serve ice cream while watching your kids through a glass window, than it is is to constantly yell their names while running under a suspended tube, wondering if the screams of pain are coming from your child as (s)he is being crushed by a roving gang of eight years olds. Not to mention, 10 out of 15 parents agree, Chick-Fil-A is much cleaner than any of the other fast food play areas.
dena at 9:01 AM
18 Comments