Wednesday, December 14, 2005
The Christmas Chain of Love
I love tradition; holiday tradition. This is an odd little characteristic for someone who is rather non-traditional in most other areas.
Several people I know do a Christmas Chain for their kids. Each link has a different activity on it: baking cookies, wrapping presents, visiting Santa. You get the picture. I figured I'd jump on the bandwagon, and do my own Christmas Chain. But being the non-conformist that I am, I decided to take the tradition down a different path. I actually decided to name my chain.
The Christmas Chain of Love.
I knew Adam would just love the idea of "
The Christmas Chain of Love
", and I knew that the minute I mentioned it to him, I'd get the rolled eyes, and his typical "what is wrong with you?" comment. He didn't fail me with his reaction. As I explained "
The Christmas Chain of Love
" to him, and started describing the activities, he stopped me mid-sentence, and asked "Why do we have to call it the
The Christmas Chain of Love
? Why can't we just call it getting in the car and looking at Christmas lights?"
C'mon Adam, do you have to spoil every single one of my little annoyances? The thing is, is that he knows I thrive on this kind of thing. He knows that I turn love to turn a simple little pleasure into an elaborate plan, with names and ideas that I have no true intention of following. It's how I was when I met him. It's how he expects me to behave.
In a few minutes I'm going to call him and report today's
Christmas Chain of Love
activity. We're going to get in the car and drive the almost two hours to Kitty Hawk, North Carolina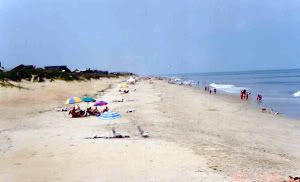 and look at some Christmas Lights. The home I want to see is one of three chosen for the Today's Show Best Light Display Contest. We're going, and he's going to love the hell of it.
Of course, we won't end up going, but the real joy of creating the events that are part of
The Christmas Chain of Love
is seeing the expression on Adam's face or hearing the "what the fuck is she thinking of now?" tone in his voice when I approach him with a new idea.
It doesn't really matter whether or not he goes along with any or all of my
Christmas Chain of Love
activities. What matters is that I've created yet another tradition for the holiday season. Hell, I'll even enlist friends and neighbors to participate in my
Christmas Chain of Love
. I've already told
Misty
that if Adam poo-poos my idea for tonight, then she'll have to make the trek to North Carolina with me.
Remember the band Erasure from the 80s. Well, now I can't get that song out of my head. From now on, I'm going to sing it to Adam each time I mention
The Christmas Chain of Love
. He'll love it.
Come to me, cover me, hold me
Together we'll break these chains of love
Don't give up, don't give up
Together with me and my baby
Break the chains of love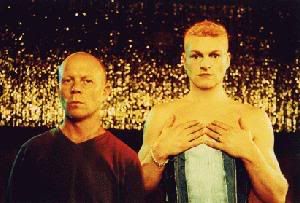 dena at 9:19 AM
8 Comments