Tuesday, December 13, 2005
Adam's B'day Present - 1999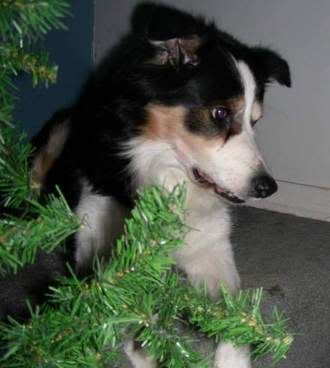 In 1999, I decided to get Adam a puppy for his birthday. We already had one dog, a rescued pup named Cujo. Cujo was three years old, and seemed like she needed someone to keep her company when we were at work. We decided on a Border Collie - they like to play Frisbee, we liked the look and size of the breed, and they're smarter than many people I've met.
We started asking around, and soon we located a farm that had a litter of pups ready for new homes. I really wanted a female puppy, but it was Adam's gift and he wanted a male. We picked out a little tri-color. Dog trainers recommend giving your dog one syllable names for command purposes, and I came up with Ike. The name suited him well.
I've always taken my dogs to obedience classes, not only for the basic training offered, but for the socialization, as well. Adam didn't want to do the school thing, and I happily took over. Of course, he didn't realize that this would soon mean that I would be Ike's "main person." It's just the way it is in the dog world. Ike excelled in his class; no surprise there. He learned all the hand signals, obstacle training, and jumping. And we bonded.
Ike is no longer Adam's dog. He hasn't been for quite awhile. Even Adam will tell you that the dog is in love with me. Although he likes all of us, he worships me. I'v caught him staring at me with the googoo eyes of an adolescent boy. I've also seen this dog roll and cut his eyes at Adam when he walks by him, much like a teenager would do when his father tells him to do something that he disagrees with. I really try to get the two of them to form a real bond, but it's just not happening. Even with dogs, you can't force a real friendship.
dena at 7:54 PM
11 Comments