Sunday, November 27, 2005
Yes, Ethan, there is a Santa Claus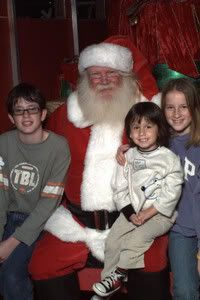 I've always struggled with the whole Santa Claus myth. Is there? Isn't there? How old should kids hang on to the belief? Is it unfair to take away the magic of Christmas by exposing Santa Claus?
When my oldest two children were old enough to understand that money had a value attached to it, I thought it was time to explain why on Christmas morning Santa failed to bring every single toy or item on their multi-paged lists on. It was easy enough. I told them that Santa made and delivered the gifts, but those gifts did not come without a price tag. I had to pay Santa for the gifts. I also explained that Santa had a lot of elves and reindeer to feed, and the North Pole was a huge responsiblity for Santa, and he needed our help. The money that I paid Santa helped to make sure that he could make his yearly trip around the world. This also helped to explain why some children in their classes got nothing for Christams. Nothing.
Many of my peers criticized my methods, and voiced their opinion, with quite a bit of enthusiasm, that I was killing the spirit of Christmas for my children. I didn't think so. In fact, I thought I was doing the exact opposite. Would Santa really be so cruel that he would fly right over the homes of the poor children? Is it possible that the children with the nicest homes, in the nicest neighborhoods, were the only "good" children. If not, then why were they the ones with the most presents under their trees. The entire only "good" children get presents from Santa is the biggest lie of all. Doesn't this teach our children that only those with money are good? What a shameful lesson!
As my children grew, I made certain that they understood the true spirit of Christmas was the act of giving, especially to your community. I am alrady teaching Ethan that Santa can't do all he does without our help. This year I plan to explain to him that sometimes Santa needs us to help deliver toys to the children who have no money for toys. Next weekend, we will pick a child's name from the Angel tree and then pick some gifts out for that child. It's not a huge gesture, but it will teach Ethan that even Santa Claus can't do it all, and that it takes the whole world to make Christmas special.
Yes, Ethan, there is a Santa. But like everyone else in the world, he also needs a little help from his friends.
dena at 6:51 PM
14 Comments