Saturday, November 12, 2005
Vegas baby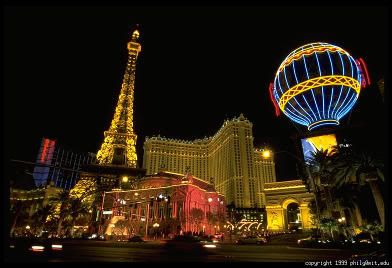 My husband and I are in the midst of planning a trip to Vegas at the end of March. This will be a meet-up wtih some friends I met online when I got pregnant with Ethan. We all met on a BabyCenter birthboard, and eventually moved to a private site, that we take turns paying for. Ethan is four years old now, and so it's time for us to all meet for a fun get together. Some in our group have already met, and some even live close to one another and hang out on a regular basis. None of us, however, knew each other before our pregnancies. We come from New York, New Jersey, Virginia, Maryland, Kentucky, Idaho, Florida, Georgia, California, Washington, Oregon, Connecticut and Michigan.
Some of us are even trying to coax friends from outside the board into joining the party. Hopefully, my friend,
Misty
, will be joining us.
And so the point of this post is actually to get some ideas. Our group won't all be staying in the same hotel. We are a diverse group, and that means our lodging, show, restaurant requirements will all be different.
I've only been to Vegas once, and we stayed at the Bellagio. I loved the Bellagio, but I really want to try something different this tme. What I am asking is that you give me your review of hotels, casinos, shows and restaurants. This is your chance to be a critic. Let's hear it...the good, the bad, the ugly, the scary, the must gos, the must dos. I want it all.
dena at 3:31 PM
19 Comments