Tuesday, November 15, 2005
Tuesday 10 - Top Ten Favorite Movie Characters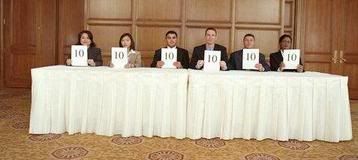 I figured I'd play the Tuesday 10 today since my friend,
Misty
and I spent a substantial amount of time talking about it today at lunch. That, and I refuse to be outblogged by a friend. And so, here is my list. Misty and I like many of the same characters (not surprising, since we typically find humor in the same things), and therefore, in an attempt to keep from boring you, I have created an entirely new list.
Hereis my list, in no particular order. And for the hell of it, I listed more than ten. I can do that. I don't like to follow rules.
Dirk Diggler
Played by Mark Wahlberg in Boogie Nights
Willy Wonka
Played by Gene Wilder in Willy Wonka and the Chocolate Factory
John "Bluto" Blutarsky
Played by John Belushi in Animal House
Raymond Babbitt
Played by Dustin Hoffman in Rain Man
Vito Corleone
Played by Marlon Brando in The Godfather
Darth Vader
Played by David Prowse and voiced by James Earl Jones in Star Wars
Tony Manero
Played by John Travolta in Saturday Night Fever
Tony Montana
Played by Al Pacino in Scarface
Lloyd Dobler
Played by John Cusack in Say Anything
Bonnie Parker
Played by Faye Dunaway in Bonnie and Clyde
Jack Torrance
Played by Jack Nicholson in The Shining
Dorothy Gale
Played by Judy Garland in The Wizard of Oz
Atticus Finch
Played by Gregory Peck in To Kill a Mockingbird
dena at 1:39 PM
10 Comments