Tuesday, November 22, 2005
Tick Tock Tick Tock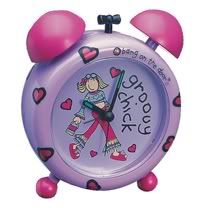 I was tagged by my friend
Gina
. Before Gina moved back home to Arizona, and when we were still working together she used to send me these things all the time. She knows I love them.
1) Do you use an alarm clock to wake up in the morning?
No, I use the phone ringing wake-up that comes with the phone company package.
2) What time do you set it for?
6:23. I've been doing 6:23 forever. Gotta be an odd number. Just like with the microwave. I cook everything on ?? minutes and 39 seconds...1:39, 2:30, etc.
3) Do you hit the snooze button?
No, I know I have to get up, and I just roll on out of bed when it's time. Now when I was in college, it was an entirely different story. There were days when I'd wake up to a loud banging and yelling at my door. People yelling my name. I was one of those people that could sleep right through the alarm. Right through a very loud alarm.
4) Have you ever abused an alarm clock?
Nope. I'm pretty non-violent for the most part. I saved it for the assholes banging on the door.
5) It's time to spread some "Blogcess" linky love: i pick everybody who reads this...
dena at 5:37 PM
4 Comments