Saturday, November 12, 2005
Friday's Feast (on Saturday)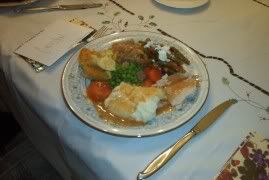 Friday's Feast
is fun little meme that is posted each Friday and designed as a
Buffet Yor Your Brain
. Be sure and share your answers, and also go to the
originating site
to join their e-mail list.
Appetizer
If someone made a statue of you, in which pose would you like to be?
Sitting up, legs tucked under, hands on lap
.
Salad
What perfume/cologne does your best friend wear?
None. Maybe a light body spray every now and then.
Soup
Name something satisfying about your work.
I get to do creative things, and basically work on my own projects.
Main Course
What was the last excuse you made, and why did you need to make it?
My neighbor came over and asked me to button the hook on her dress. I told her I couldn't see it, because I didn't have my glasses on.
Dessert
Complete this sentence: I wonder why _________________.
I wonder why the spacebar on my keyboard is sticking.
dena at 6:31 AM
10 Comments