Wednesday, November 16, 2005
Curious questions, creative answers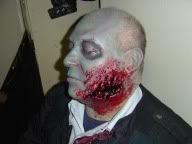 When I was in the hospital last week, I decided not to share the info with the majority of "real life" people. I told a few work acquaintances, a few close friends, and the people that read my blog. That's how I roll. I really don't want to go into a long dissertation about my medical condition with people like my neighbors, Mr. & Mrs. Perfection, The Bagel Snatcher, Mr. Poopy Pants, or the guy in the office who picks, picks, picks at his crotch when I am talking to him about concrete blankets.
But, now that I've returned to work, and the questions are flowing, I figured I may as well have fun with it.
Today at lunch, Misty and I decided to come up with a list of possible reasons for the bandaged wound on my neck.
Here are a few:
I was in the mall parking lot, loading my packages into the car at closing time, and I felt something cold on my neck. I felt the heavy, alcohol laden breath and heard a raspy male voice state, "Bitch, give me your money or I'll cut your shit from one end to the other." I chose to use my martial arts experience, but during the scuffle the knife slit the right side of my neck."

I was mountain climbing over the weekend. During the night I heard some movement outside our tent, and I looked in the corner of the tent, and saw my husband crouched in the corner, crying like a little girl. I quickly ran out of the tent, and saw a large bear running off with our cooler. It was then that I jumped on the bear's back, tackled him to the ground, but not before his huge claws skimmed the surface of my neck.

Shark attack!

A cockroach crawled down my throat, and embedded itself in my neck glands.

They found a small lump in my neck. When they opened up my neck it was discovered to be my unborn twin.
I could certainly use your help with a few more. Care to join in the fun?
dena at 2:35 PM
9 Comments