Sunday, November 13, 2005
Area Headlines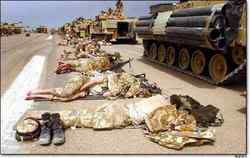 VA Medical System Dealing With More Injured Than Planned from Iraq, Afghanistan Wars
This one bothers me...A LOT. We should not be there any longer. A good friend of mine lost her son in Iraq. Her only son. What a waste. W needs to swallow his pride and bring our guys and gals HOME.
Local man wins post in Ethiopia, later is jailed
VIRGINIA BEACH — When the government in Ethiopia announced its first open elections in May, Yacob Hailemariam knew what he had to do.
"It was time to go serve the motherland," said his friend, Berhanu Mengistu, a professor at Old Dominion University. "He ran away from Ethiopia, but his heart was always in Ethiopia."
Hailemariam, a business professor at Norfolk State University for nearly 20 years, retired early; moved to Addis Ababa, Ethiopia; and ran for a seat in parliament.
Like several other champions of democracy, he won decisively. The victory quickly evaporated.
The ruling party tried to limit the power of the opposition. The newcomers refused to take their seats in the parliament and demanded reform first. Negotiations broke down.
On Oct. 31, two dozen opposition leaders, including Hailemariam, were jailed. They were accused of fomenting violence and seeking to overthrow the government. Thousands more have been detained and nearly 50 people killed in clashes between demonstrators and government forces since then.
Where's the Bush administration when it comes to a lack of Democrocy in African countries? mmmmmm.
Norfolk concert raises $29,000 for veterans hurt in Iraq, Afghanistan
We shouldn't have to hold concerts for veterans hurt in Iraq. We shouldn't be in Iraq. Thankfully, we have citizens who care.
Three months pass, but not dad's devotion
VIRGINIA BEACH — Mary Rachel Carson had often passed through these doors – the Bow Creek Recreation Center, where she and her father swam together ; the Burger King restaurant on Rosemont Road, where she worked to make a little cash ; and the 7-Eleven on the fringe of her Kings Grant neighborhood, where she tried to buy a pack of cigarettes the morning she was killed.
Now, the teenager's photo is taped to the electric doors and glass windows of some of the places she used to spend time. Printed across the top in block letters is the word "Reward."
The signs have been posted in earnest by Bill Carson, Mary Rachel's father. For him, they are a painful reminder that nearly three months after his daughter was killed, the case has not been solved.
The retired schoolteacher runs the Professional Association of Teachers, but hunting for leads about his daughter's killer has become a full-time occupation.
"This is my No. 1 job now," said Carson, 64. "Almost every minute of the day, I think about this."
Thankfully, our local newspaper is keeping this story alive. I can't imagine how painful it is for this girl's parents to have to ride by the spot where her body was found, within walking distance from her home. How sad.
So, what's headlining in your area?
dena at 6:34 AM
7 Comments