Saturday, October 01, 2005
Neptune Festival Weekend
This is the best weekend of the year in Virginia Beach. Basically it's:
A Twenty block art show
Barbeque sundaes, funnel cake, crabcake sandwiches, turkey legs, onion blossoms, butterfly chips...
Four concert stages
Sandcastle contest
Great people watching
Parade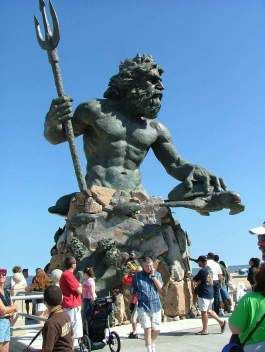 Last night they did the
statue
dedication of the new 26 foot King Neptune sculpture. Amazing piece. We did a bit of walking around on the boardwalk, and then went to one of the bars and saw a decent band. Stayed out way too late, and unfortunately I felt horrid most of the morning, the fault of too many Cosmos.
Today we headed back to specifically look at the art, and found exactly the piece to fill the the spot I have been trying to fill for more than a few years.
We're taking a little break, and then heading back down for some music later this evening. There's a band I want to see, but they don't start until 9:30. Crossing my fingers that napless boy can hang. Of course, falling asleep in the jogger wouldn't upset me either.
dena at 4:33 PM
8 Comments