Wednesday, October 05, 2005
Dropping Death Off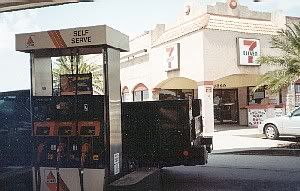 Greek people, or maybe it's just
my
Greek family, have this belief that whenever you go to a funeral you must "drop death off" before you go home. If not, you'll bring death home, and that's just wrong.
My family has attended many Greek funerals as a group, and we generally meet at one home, and then form a caravan to the funeral home or church. Once the service is over, we all get back into our assigned cars and then form a parade to the "drop death off" destination. Typically, the destination is a 7-11. I'm sure we are a sight. Car loads of Greek-looking people, some with American looking kids and spouses, all parading through the 7-11 while one person purchases a Diet Coke. Too bad 7-11's don't have revolving doors. It would make the entire production much easier.
A few years ago, I introduced some friends to the tradition of Dropping Death Off, and I am hopeful that they have turned this into a tradition of their own. So, have you
Misty?
dena at 8:22 AM
9 Comments