Saturday, October 08, 2005
The contents of their heads
Most of the blogs I read are light-hearted, comical, picture shares of day to day of remembrances of ordinary people. However, recently I've introduced myself (and become somewhat addicted) to reading something of a different nature.
What brought me to this newfound interest? Well, the basis is really nothing new. I've always had an enormous interest in the reading about true life crime. Murders and the people that commit them. The background behind the psychopaths, serial killers and sociopaths. Not because I fantasize about murder or anything that dark. It's more the mind behind that murders that interests me.
But the blog hunting (ok, ok...stalking) began with the disappearance of
Taylor Behl
, and now the recovery of her remains and the pursuit of suspected killer,
Ben Fawley
, aka Skulz in the inerntet world. The more I read, the more I find, the more I find, the more interesting and dark the entire story becomes.
Certainly, much of my initial interest started because the girl was a student at the University my oldest son attends, and then I find out that Skulz was friends with my son's ex-girlfriend and many of her friends in the theater department.
I've also been watching the news reports and reading the papers, and both local media and police make strong insinuations that blogging is almost deviant in nature.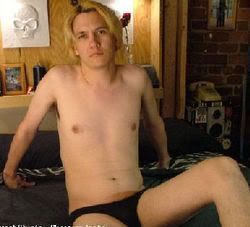 A photo of skulz...
dena at 9:09 AM
10 Comments