Thursday, October 20, 2005
Confirmed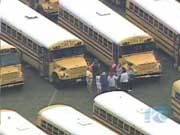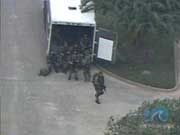 Today confirmed for me something I have always had a pretty good idea of. I do not handle emergency situations very well.
At 3:45ish today I get a phone call from my friend
Misty
. This is the jest of it:
"I picked up Kaiden and Ashton early today, but Daphne just called and said she couldn't pick up Noble because the school is on lock down."
Well, you may as well have just pulled the plug on me right then. I quickly hang up, grab my keys and start to run out the door. Literally run out the door, and would have started running down London Bridge Road. From what
Misty
tells me, I immediately went into sob mode, and hung up on her. Then something kicked in, and I call Adam. He's on his way, and I burst into tears (again) and tell him to rush to the school. I hang up on him.
Misty
calls back, and tells me that the school parking lot is full of police cars, SWAT trucks, and news trucks, but she has no idea what's going on. She said she tried calling the school, and got disconnected. I'm hysterical, and can't even remember how to look up the number. Adam is stuck in traffic, but sees the helicopters circling the area he's headed. Finally Misty gets through, and is told that they are letting one parent in at a time. All we know is that they are searching for someone, and they put the schools on lock down when this happens.
Adam calls back, and says he has Ethan but doesn't know what's going on. They let him in, he grabs Ethan and they tell him to run to his car. WTF? Ethan explained it as "We had an emergency. Something very bad happened, and we had to turn off the lights and sit on the floor."
Of course half my office is running into my office to find out why I am in such a state of hysteria. People are volunteering to drive me home. I'm shaking, but no longer berserk. I do not handle stuff like this well... NOT AT ALL.
Someone in my office finally finds something on the internet. Someone is shooting at school buses from the woods behind the parking lot on the corner of Great Neck Road and Old Donation Parkway. Ethan's school is on the corner of GNR and ODP. I believe they said that four different buses have been hit. I'm hysterical again.
The helicopters are still circling, and the kids in the adjacent middle school are being released to their parents one a time. This is a school with over 1,000 students, and I imagine it will be awhile before they are all let out.
Anyway, I am so much better now that I'm home and we're all sitting in a room together watching the news and playing.
And to show you that this can happen ANYWHERE, and not just in the hood...this area is surrounded by homes in the million dollar area. What the heck is going on in this world?
dena at 7:38 PM
20 Comments