Thursday, October 06, 2005
Back to Work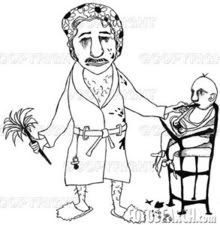 Today my husband got word that he can return to work, and that the dreaded back surgery can be put to rest for the time being. I should be elated, right? Well, guess what? I feel almost sad, and even a little twinge of depression over this seemingly good news. News that would have most wives jumping with glee, and hugging their husbands with both arms.
So, why am I so sad? Because dammit, I just trained the sonofabitch.
Whow wouldn't want all of this handled? He takes Ethan to school in the morning, and picks him up in the afternoon. He vacuums, he dusts, he does laundry. He feeds the dogs. He runs errands. He even cooks dinner. And yesterday, he made me lunch and brought it to my office.
Holy crap! I've lost my wife! After finally realizing how much I've been needing one.
dena at 6:03 PM
16 Comments