Sunday, September 04, 2005
Weekend Ramblings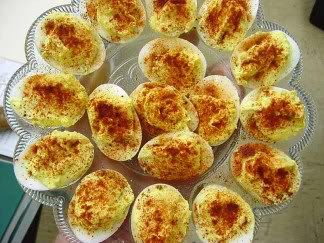 My son, Ethan, has been crowned King Contrary I. He will argue about the color of the grass.
My husband, Adam, has not been able to work for three weeks. His back is a mess, but he can do a little bit of this and that. When I come home from work, all I ask is that dinner be ready, and the house half-assed straight. My feelings are making me feel ike a 70's husband. It's almost to the point where I want to come home, plop my ass in front of the TV, pop open a beer, and smack his ass as he walks past me.
My daughter, Cristin, has turned into Party Girl 2005.
Misty
and I need to make 4 dozen deviled eggs for
Nadine's
party today. That's 106 individual deviled eggs. Crazy.
My son, Stephen, is away at school. I think I'll give him a call. I need a little normalcy today.
dena at 7:56 AM
11 Comments