Thursday, September 22, 2005
Too Good Not To Share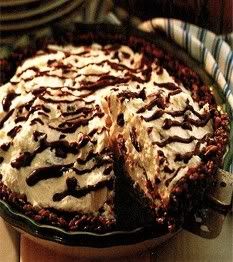 I love cookbooks. I love recipes. I actually love to cook. I just don't have the time.
Every so often I will come across a recipe that I must try. Not must try cooking. Must try as in eating, consumption, chewing and swallowing. And then I ask someone to try it out for me, and let me taste it.
A couple of days ago I came across this recipe, handed it to a friend of mine at work, and the next day she brought not one, but two of these magnificent pies to work.
Make this recipe or have someone make it for you. It will send you into an orgasmic spin.
Title: Chocolate Chip Ice Cream Pie
Description:
aka Candy Bar Ice Cream Pie
Ingredients:
1/2 cup chocolate syrup
1/3 cup semisweet chocolate chips
2 cups crisp rice cereal
1/4 cup sour cream
1 quart chocolate chip ice cream, softened
Directions:
Coat bottom and side of an 8-inch pie plate lightly with butter
Combine chocolate syrup and chocolate chips in a small microwave-safe bowl. Microwave on High until hot, about 45 seconds. Stir until smooth. Reserve 1/4 cup of the cholote mixture.
Combine remaining chocolate mixture and cereal in a medium bowl and mix to coat cereal. Press mixture over bottom and up sides of prepared pie plate. Freeze until firm, about 15 minutes.
Combine reserved chocolate mixture and the sour cream in a small bowl and mix well. Spread half the ice cream in the prepared pie plate. Drizzle with half the sour cream mixture. Top with remaining ice cream and drizzle with remaining sour cream mixture. Freeze pie, covered, until firm, about 1 hour.
dena at 7:05 PM
12 Comments