Tuesday, September 20, 2005
The things that matter most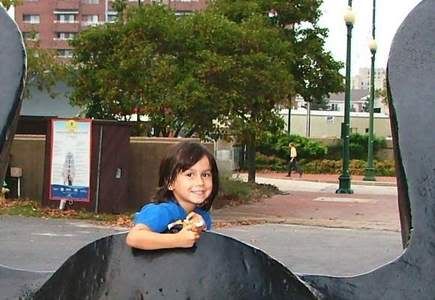 Tonight Ethan and I attended Cindy Sheehan's "Bring Them Home Now" tour at Norfolk's Town Point Park Veterans' Memorial. There were close to 150 people in attendance. We listened to several very moving speakers...a man and woman with three children and one grandchild, all serving their second tours in Iraq; a 23 year old woman who served in Irag spoke of the unbelievable terror she faced each day while serving; a young college student who lost her brother in Iraq, and has now opted out of college for a semester to support this tour; a man who recently served in Iraq spoke of his experience as a medic and the difficulties of dealing with the images of the war even though he is home. Each of the speakers told a different story, but they all spoke the same message - They support our soldiers, but they do not support the war. They want to bring our troops home.
I wanted to show my support, and I wanted Ethan to be a part of it with me. I think it's important to expose him to the things that matter to me. I want him to learn at an early age that it is important to care what goes on with your government, and that you need to support the causes that are important to you.
Those of us who want to see our troops come home, need to voice our support loudly. I know that many of us have focused our hearts on Katrina lately, and as is typical for America, we switch causes, and lose interest when something new comes around. We cannot forget that we have lost close to 2000 men and women in Iraq. Men and women who made the ultimate sacrifice for their country. But enough is enough. Bring them home.
dena at 8:56 PM
3 Comments
It's great that you are teaching Ethan to broaden his mind and that you are exposing him to experiencec that will help him to grow as a person. It may not mean a lot to him now, but as he gets older he will appreciate the exposure to and understanding of issues that you give him. :o)
Have a great day!!

at 2:17 PM soapbox.SUPERSTAR said...

You were supposed to call me when you got home. I was up doing my homework until 11:00...but no call.

Did you wear your Tie Dyed outfit and headband?

Today, the following comment was left anonymously. This comment didn't show up here, but I did get a copy in my e-mail. I thought I'd give the person the chance to claim it. Please don't ever be afraid to post comments here. I am always open to debate, and I also know how to agree to disagree before things get ugly. But, keep in mind, I only respond to people. And when you post anonymously, you are just that...anonymous - Having no distinctive character or recognition factor.

Yet you make no reference whatsoever to the terrorist attacks and that September 11th should be a day of remembrance! Damn you're not the far away from NY. Did you even think of all those people once on the 11th?

--
Posted by Anonymous to Morpheme Palette at 9/21/2005 10:21:25 AM