Friday, September 23, 2005
Save to your C drive...
On really slow, lazy Fridays I go through our network drive looking for stuff that was mistakenly saved there. This is what I found today:
7th heaven vs. Dawson Creek

Although Dawson's creek and 7th heaven have many similarities they have differ in that they have different outcomes.

7th Heaven and Dawson's creek have many similarities in that they each have something for the viewer.

7th Heaven and Dawson's Creek tough each show is different they all teach a moral lesson such as, In 7th heaven they always have real life issues and at the end tell you what was morally right .In Dawson's Creek it has the same effect like when Joey wanted Dawson's so bad she do at thing to get him and then she got him she realized the grass is not always greener on the other side. Another example of their similarities is the amounts of people its viewed by.7th Heaven and Dawson's Creek both have a huge number of people watch tough both shows occur on different nights. And last both shows show a similar attraction by the actors and actresses. For instance everyone that plays on 7th heaven has also been in a movie or commercial such as that father on 7th heaven also has played in a number of movie roles .the same goes for the TV show Dawson's Creek The guy that plays Dawson ha shad a number of great movies. So you see that Dawson's creek and 7th heaven have many similarities.
Although they have many similarities they have many differences in that they attract different vies and there shows also have different outcomes.
Dawson Creek is categorized as a family show .For instance they have real life family circumstances and have it down a family atmosphere. In 7th heaven the father a preacher and it's a very Christian structure. As for Dawson's Creek it's more for teenagers than anything else. It's a show about real teenagers growing up in high school. They have to face all the sopra crazy events that go on such as whose sleeping with who, Who took whose boyfriend what chick hates this chick gays, and messed up families wouldn't exactly call that a family show. So even with all the similarities these shows have many differences.

As on con see Dawson's Creek and 7th Heaven Show similarities in the shows but also differ in that they both offer many different contributions on today's youth and families.
and I also found this:
Thin, transparent fabric of cotton, silk, rayon, or synthetics, made in open weave of creped yarn, died in solid colors or printed and used mainly for dresses, blouses, night wear, or scarves.

Washable men's or women's sports pants made of chino cloth- it's a durable close woven khacki colored cotton fabric, popular in 1950's for sportswear and for school wear in 1960's

Man's formal black one-button jacket with peaked lapels, skirt cutaway from waist in front to knees in back in slanting line, back vent topped by 2 buttons; worn with waist coat and striped trousers

Describing the front opening of a garment lapped over double and fastening with 2 rows of buttons; originally both rows were functional, now one row is usually decorative

Usually a large collar styled with 2 identical layers of fabric - one slightly larger that the other, may also be 2 layers with the upper one cut in asymmetric style
By far, this was the best: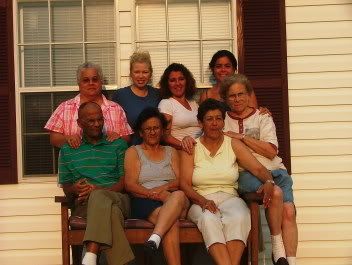 For gosh sakes people, quit saving stuff where I can find it ! ! !
dena at 2:21 PM
5 Comments