Monday, September 12, 2005
Morning Glories, Boobies & Nickels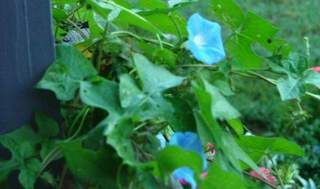 I will continue to hold fast to my theory that there are no weeds. That is. in the sense that a weed should be immediately pulled when it sprouts in your garden. This summer I have been blessed with several intersting "weeds", that my husband would certainly have pulled, given the chance. Because of his insistance at pulling anything that newly sprouts, he has on occasion pulled up the first peek of many of my prized perennials. He has been relegated to the task of pulling up stray sprigs of grass...only grass, and only after having received several identification lessons. And so, that is why this beautiful morning glory continues to brighten my day each morning. In the early hours of the morning the vine, which has crept around my front deck raliling, blooms the most fabulous shade of blue. While the rest of the house sleeps, and I stumble out the door, grumpily digging for the keys from the bottom of my purse, the Morning Glory gives me this little bit of happiness. It manifested istelf out of a half used bag of topsoil, and rather than pull it, I cut the bag around it, and let it grow. I suppose its early morning blooms are its own personal way of thanking me for letting it survive, and selfishly blooming only for me.
And now to the boobies and nickels:
Ethan: Daddy, girls have boobies. Did you know that?

Adam: Yes, I know.

Ethan: I like those boobies.

Me: Enough with the boobie talk Ethan.

Ethan: I'm talking to my Daddy, not you. Go in the other room Mommy.

Me. Enough with that.

Ethan: I'm not talking to you. That's right, Daddy?

Adam: That's righ, but you still need to be nice.

Ethan: Boys don't have boobies. They have nickels. Only girls have boobies.

Adam: Nickels?

Ethan: Yes, that's right. Boys have nickels and belly buttons.
dena at 5:55 AM
10 Comments