Saturday, September 17, 2005
A flash of reality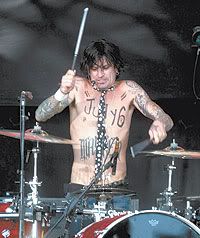 Those that know me well, know that one of my indulgences is Reality TV...I'm not super selective, I'm not truly devoted to any one show. But I do like my Reality TV, and I like it in all forms. The more obnoxious the better, in many circumstances. One of my new favorites is the "Tommy Lee Goes To College" series, which sadly just bid the viewers an adios. I like Tommy Lee - we share a lot...we're both 1/2 Greek on our mothers' sides, we're around the same age, and we're both rather immature for our ages. But we have our differences...I'm not, nor have I ever been, a Motley Crue fan, or a fan of the hair metal music genre.
However, I wish I had gone to see MC at the amphitheater this past week, just for the antics. I hadn't heard any of the stories, until I picked up this morning's local news section. And here's what it had to say:
VIRGINIA BEACH - The state's liquor agency is investigating whether the Verizon Wireless Virginia Beach Amphitheater violated its license during a Motley Crue concert last week.

The state Department of Alcoholic Beverage Control said it is looking into a complaint that a band member carried a video camera through the audience and encouraged women to flash their breasts. The video was shown on the large projection screens.

Leon Coleman, special agent in charge of the Chesapeake regional office, would not elaborate, except to say that the agency had interviewed a person who attended the concert.

Under state law, any establishment that allows lewd, obscene or indecent pictures on its premises can have its ABC license suspended or revoked.

The news comes as the owner of several Oceanfront restaurants and bars alleged that private businesses are held to a different standard than public establishments.

Andy Edwards, who owns Chicho's, Crazy Charlie's and Live, said ABC agents have ignored arrests and liquor law violations at the amphitheater. One of Edwards' restaurants – Chicho's – had its license suspended recently for ABC violations.

"The biggest nuisance ABC license holder in the city is the amphitheater," Edwards said. "It is not equal treatment."

During Motley Crue shows, drummer Tommy Lee routinely persuades women to lift their shirts for the camera. Radio stations and unofficial band Web sites document the R-rated stripteases.

Still, it is uncertain whether any other officials at the venues have looked into violations of public nudity laws.

David Knight, 45, of Smithfield, who attended the concert with his 16-year-old son, said the band passed into the crowd a bottle of Jagermeister liqueur and snow cones that they said were spiked with it. Before the bottle reached the third row, a security guard seized it, Knight said.

Edwards said the Motley Crue concert is an example of selective enforcement. He said several Oceanfront bars have faced fines and suspensions for lesser offenses.

Last year, waitresses at Crazy Charlie's were ticketed for public nudity for wearing short shorts. Edwards' attorney, Kevin Martingayle, said they were no shorter than what waitresses wear at Hooters.

The waitresses were convicted in General District Court, but the charges were dismissed after they were appealed to Circuit Court, Edwards said.

"To say that there is a double-standard is the understatement of the year," Martingayle said. The amphitheater "gets a free pass," he said.

The Virginia Beach Sheriff's Office provides security inside the amphitheater, but spokeswoman Paula Miller said no arrests were made at the Motley Crue concert last week.

The ABC Department has never levied administrative charges against the amphitheater.

Coleman denied that ABC agents target Oceanfront businesses while overlooking infractions at the amphitheater.

"We treat everyone the same," he said.
Now, wouldn't that have been fun?
As for the beach bars, and their licenses...
Yes, they do get picked on, but it's been that way since I went to those same bars way back when...back when you could get a shot of tequila and a draft beer for a fifty cents from 2 to 4, and then stumble to the next bar, and have dime well drinks until 7, and then crawl to the next bar and have quarter cocktails until they carried you out.
dena at 7:59 AM
6 Comments