Sunday, September 25, 2005
Crazy..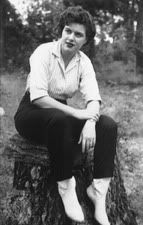 I don't like country music, as a genre. I don't listen to country music at home or in the car. Well, not typically. I do listen to one country artist, and that would be Patsy Cline. How did she stumble into my list of favorite artists, you ask? Well, I love biographical movies, and some fo the best are about country music artists. Remember Cold Miner's Daughter (Loretta Lynn)? Classic. Some of the best dialog ever...remember the bologna sandwich scene?
The movie Sweet Dreams about the life of Patsy Cline was just as good a movie, and with Jessica Lange starring as Patsy, and Ed Harris playing her husband, Charlie Dick...well, it may have even been a better movie. And the quotes in the movie are to die for:
Charlie Dick: I want to get to know you better.
Patsy Cline: Ok, now what does that mean?
Charlie Dick: Means I want to get to know you better.
Patsy Cline: See, I figure when you say you want to get to know me better - what you really mean is you want a ten minute screw in the back seat of your car.
Charlie Dick: Son of a bitch. You must think that thing between your legs is lined with gold. I can get tail any time I want, I don't have to come crawling after some mean mouthed woman who got a cob crossways. Hell, if I just want to bump uglies with somebody, I got plenty of places to go for that.
Patsy Cline: [laughing] Bump uglies?
Charlie Dick: That's right.
Patsy Cline: My lord Charlie, what a charming expression.
Well, that dialog was beyond classic.
But the point of this post, other than letting you know that Patsy Cline is one of my favorite artists, that her range is incredible, and that I can't think of anyone that could hit them like she did, is to tell you that Virginia (yes, she's a home girl) finally given the home she grew up landmark status -- 608 S. Kent Street in Winchester, Virginia.
Sweet Dreams, girl... maybe this will make you smile today. After all, they say it looks like it did when your Mama used to sew your cowgirl outfits.
dena at 8:57 AM
13 Comments