Monday, September 05, 2005
Cocktail Recipe of the Week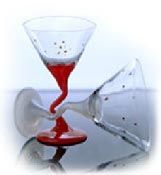 Thought I'd start posting a weekly cocktail recipe on Mondays. This will give you ample time to get to the liquor store, and gather the ingredients before the weekend arrives.
This week's recipe:
Summer Solstice Cocktail
It's sorta like a cosmo, but better!
If you're smart, you will calculate some proportions so you can make a bucketful. These go fast.
Ingredients:
2.5 oz rasberry vodka
1 oz Cointreau
1 oz Rose's lime juice
1/2 oz cranberry juice
1/2 oz orange juice
Combine, shake and strain into a martini glass.
Cheers!
dena at 8:45 AM
8 Comments