Wednesday, September 14, 2005
Big Mistake....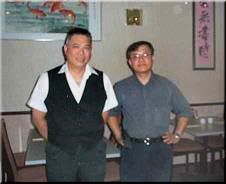 No, take that back. HUGE, HUGE MISTAKE. It was my smart idea to go to this Chinese Restaurant. We got a little pamphlet/menu thingy in the mail, and so I thought we'd give it a try. We had eaten there before, and it sucked. But it was four years ago. And like Adam said, you can't really fuck up some rice and lo-mein. Boy was he wrong. Boy, was I wrong. The place was so bad, when I even begin to think about it the taste of sour bile starts finding its way up my throat.
When I got home, I thought I'd look up the last inspection for the place. It was done on August 22, as a follow up to an inspection on July 15. There were still the same number of critical violations.
Seriously, I want to stick my finger down my throat, and purge what little bit I did eat.
Asia Garden - Inspection Report
Inspection Information:
Facility Type: Restaurant
Inspection type: Follow-up
Inspection date: August 22, 2005
Number of critical violations: 15
Number of non-critical violations: 26
Definition of critical and non critical violations
Violations:
A summary of the violations found during the inspection are listed below.
Code Observation / Corrective Action
0140 Critical Improper handwashing procedures observed. Employees did not apply soap during handwashing.
Ensure all food employees clean their hands and exposed portions of their arms with a cleaning compound in a lavatory by vigorously rubbing together the surfaces of their lathered hands and warms for at least 20 seconds and thoroughly rinsing with clean water.
0160 Critical Repeat Food employees failed to wash his or her hands before engaging in food preparation, after touching bare human body parts, after coughing, sneezing, eating, after handling soiled utensils or after engaging in any activity which may have contaminated his/her hands.
Instruct food employees to clean their hands and exposed portions of their arms immediately before engaging in food preparation including working with exposed food, clean equipment and utensils, and unwrapped single-service and single-use articles and during food preparation, as often as necessary to remove soil and contamination and to prevent cross contamination when changing task.
0170 Repeat A food employee was observed cleaning their hands in a food preparation sink or a sink used for utensil washing. Employees rinsing hands in the three compartment sink.
Instruct food employees to clean their hands in a handwashing lavatory. Food employees may not clean their hands in a sink used for food preparation or utensil washing.
0220 Critical Repeat In use open drinking containers stored in a manner that may contaminate food, food contact surfaces or utensils. Employees drinking while preparing food in the kitchen.
Employees may drink from a closed beverage container if the container is handled to prevent contamination of (1) The employee's hands (2) The container and (3) Exposed food clean equipment, utensils, and linens and unwrapped single-service and single-use articles.
0240 Repeat Employees observed working in the food service area without proper hair restraints.
Ensure all employees wear hair restraints such as hats, hair coverings or nets, beard restraints, and clothing that covers body hair, that are designed and worn to effectively keep their hair from contacting exposed food clean equipment, utensils, and linens, and unwrapped single-service and single-use articles.
0380 Critical Repeat Food packages are not in good condition or the integrity of the package contents are not protected from adulteration or potential contaminants (ex: dented food cans). Dented cans stored with other foods and cans offer for sale.
Discard or return to distributor any food packages that are not in good condition or the integrity of the package contents are not protected from adulteration or potential contaminants.
0450 Critical Repeat Employees observed handling ready-to-eat (RTE) food with their bare hands. Employees were cutting cooked pork with bare hands. Employees obtained drinking ice with glasses, and container without handle was stored in food.
Provide suitable utensils such as deli tissue, spatulas, tongs, single-use gloves, or dispensing equipment to handle RTE food to prevent contamination from hands.
0470 Critical Repeat Unwrapped or uncovered food in the walk-in units.
Protect food from cross contamination by storing food in packages, covered containers, or wrappings.
0480 Repeat Unlabeled food containers.
Label working containers with the common name of its contents. Consumers may be allergic to certain foods or ingredients. The mistaken use of an ingredient when the consumer has requested that it not be used may result in severe medical consequences. Liquid foods and granular foods may resemble cleaning compounds. The mistaken use of food from an unlabeled container could result in chemical poisoning.
0520 Ice used as a medium for cooling the exterior surfaces of food is also for drink ice or used as food. Container of lemon stored directly on drinking ice.
Cease use of ice used as a cooling medium for food. Ice that has been in contact with unsanitized surfaces or raw animal foods may contain pathogens and other contaminants.
0530 Repeat Unpackaged food stored in direct contact with undrained ice. Shrimp at buffet stored directly on ice.
Store unpackaged food in drained ice.
0550 Repeat Dispensing utensils improperly stored between uses. Ice scoop stored improperly against heavily soiled kitchen wall.
Store in-use utensils or dispensing utensils in one of the following manners: 1) In the food with their handles above the top of the food and the container. 2) In food that is not potentially hazardous with their handles above the top of the food within containers or equipment that can be closed. 3) On a clean portion of the food preparation table or cooking equipment only if the in-use utensil and the food-contact surface of the food preparation table or cooking equipment are cleaned and sanitized every 4 hours. 4) In running water of sufficient velocity to flush particulates to the drain. 5) In a clean, protected location if the utensils are used only with a food that is not potentially hazardous. 6) In a container of water if the water is maintained at a temperature of at least 140°F and the container.
0570 Repeat Wiping cloths improperly stored between use.
Ensure wet wiping cloths are stored in a chemical sanitizer at the proper concentration between use.
0610 Repeat Food stored on the floor or food stored less than 6" above the floor. Multiple foods stored directly on the floor in the storage area as well as the walk-in units and throughout the kitchen.
Elevate food storage onto approved shelving with minimum 6" legs or casters.
0820 Critical Repeat Food cold holding at improper temperatures.
Cold hold potentially hazardous food at 41°F (45°F) or below to inhibit the growth of harmful bacteria.
0960 2 Repeat The food contact surface of the paper towel is not durable, nonabsorbent, easily cleanable, resistant to pitting. Paper towels were stored under food in the walk-in units.
Remove paper towel to permit easy cleaning and prevent the migration of deleterious substances, or transference of colors, odors, or tastes to food.
1560 Repeat There is a floor mounted chest freezer that is not elevated off the floor or sealed to the floor. A cleaning hazard exists.
Alter the installation of the equipment to allow easy floor cleaning. Make 1 of the following corrections: 1. Remove the equipment 2. Install casters 3. Elevate the equipment to a minimum of 6 inches off the floor 4. Seal the equipment to the floor
1570 Repeat Upper section of the ice machine exteior cover was removed and the interior of the ice machine was rusty and was observed in a condition that prevents necessary maintenance and easy cleaning.
Repair the cover to restore a state of condition that allows for proper operation, accuracy, functioning, maintenance, and cleanability per Part IV, Article 1 and 2 of this chapter. If unable to repair the cover, replace it with one that meets the specifications of Part IV, Article 1 and 2 of this chapter.
1580 Repeat Heavily damaged cutting boards were used. The food contact surface is no longer easily cleaned and sanitized due to condition.
Resurface or discard and replace the cutting boards to provide a food contact surface that is smooth, easily cleaned and sanitized.
1620 The compartment(s) of the manual warewashing sink was observed used for handwashing activity.
A warewashing sink may not be used for handwashing or dumping mop water due to risk of exposure of food or food contact equipment and utensils to contamination.
1750 Repeat Single-service items were observed reused for the storage of food. Foil containers reused to stored food at buffet.
Discontinue the reuse of single-use containers for food storage. Provide approved reusable food storage containers designed for your food storage needs.
1770 A Critical Repeat The following equipment food-contact surfaces were observed soiled to sight and touch: interior of the ice machine, and the can opener, as well as the utensil storage.
Clean and sanitize these surfaces for food contact.
1800 Repeat The nonfood contact surface of the shelves has accumulations of grime and debris.
Clean the surface at a frequency necessary to preclude accumulation of soil residues that become encrusted or attract insects and rodents.
2000 Repeat Single service items observed unprotected from contamination. Single service items stored in soiled location and was not protected properly.
Store single service items in its original protective packaging or inverted in an approved dispenser.
2260 Critical Backflow or backsiphonage prevention device not available on threaded faucet as required by law. A sprayer hose connected to the outdoor faucet without proper backflow prevention.
Provide a backflow or backsiphonage prevention device on all threaded faucets.
2310 Critical Repeat The handwashing facility located at the cookline, fryers area is blocked, preventing access by employees for easy handwashing.
Access to the handwashing facility identified above is to be available during all hours of operation. Remove the pot preventing its use.
2310 B Repeat The handwash station at the kitchen is being used as a dump station.
The handwash facility identified above is to be used for washing hands only
2350 Critical Repeat Hot water was not available at the three compartment sink. Handsink in the toilet room was not supplying hot water.
All repairs to plumbing equipment and lines are to be in accordance with law. Properly repair the equipment.
2350 ii Repeat Handsink in women's toilet room provides only hot water.
Repair plumbing.
2890 Repeat Light bulb in the kitchen, and buffet area not shielded, coated, or otherwise shatter-resistent.
Shield or replace light bulb with a coated or shatter-resistant bulb.
2910 Repeat Insect control device is located over clean glasses at the wait station where dead insects may be impelled or fall.
Install the insect control device away from a food preparation area so that dead insects and insect fragments are prevented from being impelled onto or falling on exposed food, clean equipment, utensils, and linens, and unwrapped single service and single use articles. Exposed food and food-contact surfaces must be protected from contamination by insects or insect parts. Installation of the device over food preparation areas or in close proximity to exposed food and/or food contact surfaces could allow dead insects and/or insect parts to be impelled by the electric charge, fall, or be blown from the device onto food or food-contact surfaces.
2930 Outer opening of the food establishment is not protected against entry of insects and rodents.
Protect the food establishment against the entry of insects and rodents by 1. Filling or closing holes and other gaps along floors, walls, and ceilings, 2. Closed, tight fitting windows, and 3. Solid, self-closing, tight-fitting doors. Insects and rodents are vectors of disease-causing microorganisms which may be transmitted to humans by contamination of food and food-contact surfaces.
3030 Repeat No disposable towels were provided at the hand washing lavatory in the kitchen.
Hand drying devices such as individual disposable paper towels, a continuous towel system that supplies the user with a clean towel or heated air hand drying device must be provided at all hand washing lavatories to encourage proper hand washing and avoid employees to drying their hands on their clothing or other unclean materials
3080 Repeat Less than 10 foot candles of light was noted in the storage room.
Provide at least 10 foot candles at a distance of 30 inches from the floor in the walk-in refrigeration units and dry storage areas and in other areas and rooms during periods of cleaning.
3170 Floor in the walk-in and the kitchen was in poor repair, ceiling tiles missing at the fryer area, and water damaged ceiling tiles in the toilet rooms.
Maintain physical facilities in good repair. Poor repair and maintenance compromises the functionality of the physical facilities.
3190 Dustless methods are not being used when cleaning the floor. Kitchen workers were sweeping the floor while preparing food.
Use dustless methods for cleaning the floor such as wet cleaning, vacuum cleaning, mopping with treated dust mops, or sweeping using a broom and dust-arresting compounds
3210 Critical Handwashing sink being used to dispose waste water.
Refrain from using food preparation sinks, handwashing lavatories, and warewashing equipment for cleaning of maintenance tools, preparation or holding of maintenance materials, or the disposal of mop water and similar liquid wastes.
3250 Repeat Employees toilet room was kept open.
Keep toilet room doors closed except when cleaning or during maintenance operations to prevent insect and rodent entrance and the associated potential for the spread of disease.
3270 Critical Repeat Harborage conditions exist. Flies in food service area.
Eliminate harborage conditions. Insects and other pests are capable of transmitting disease to man by contaminating food and food-contact surfaces.
3270 Critical Repeat Proper methods are not being used to control pests
When pests are found use methods to such as trapping devices or other means of pest control. Insects and other pests are capable of transmitting disease to man by contaminating food and food-contact surfaces.
3330 Critical Repeat Soap was not properly labeled.
Working containers of toxic items are to be properly labeled with contents. Identification of these containers with the common name of the material helps prevent the dangerous misuse of the contents.
3340 Critical Toxic chemical, antifreezer, stored with food in the storage area are not properly stored to prevent the contamination of food, equipment, utensils, linens or single service items.
Containers of chemical must be located in an area that is not above food, equipment, utensils, linens or single service items.
Comments:
This is a follow-up inspection to ensure compliance after the First Notice of Violation letter. Little to no improvement observed during the visit. Operator expressed no willingness to comply with the regulation to ensure food safety. No time logs record for the California rolls at buffet, the establishment discarded the food items as soon as the designated environmental health specialists entered the establishment and therefore no food temperature was taken for this item. Food contact surface was not properly clean and sanitized. Poor handwashing practice and personal hygiene observed. A second notice of violation will be issued to the establishment.
dena at 6:36 PM
14 Comments