Monday, August 15, 2005
What about a drive-in?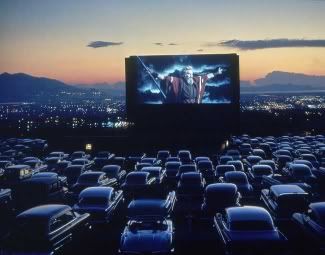 The one thing that none of my kids have experienced, and probably never will, is a Drive-in Theater. If I had the money, and could operate without a profit, I'd find some property and open one up. Some of my most wonderful childhood and teen memories took place at the Drive-in. As young kids, my brother and I would sit in the front seat with our snacks, while my Mom and Dad sat in the back and cuddled like teens. As teens, we snuck people in by stashing them in our trunks, filled coolers wtih cheap beer and drank it while sitting on the hoods of our cars, or went on dates and made out in cars that still had bench seats (no captain style seats back then). The Shore Drive-in, the Surf & Sand, and the old theater at Hilltop - all gone, but the memories linger with many of Virginia Beach's locals.
Sad that our kids won't get to experience that kind of fun.
dena at 5:47 PM
4 Comments