Sunday, August 28, 2005
Tell me it's not real...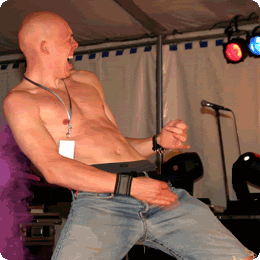 Dutchman Michael Heffels, known as "The Destroyer", has won the World Air Guitar Championships in the northern Finnish city of Oulu.
Giesela Visser of New Zealand, or "Gizzy Guitar", came second, followed by Gyuri Vergouw, known as "Pelvis Fenderbender", of the Netherlands in third place.
Heffels won a real electric guitar and an amplifier designed and donated by guitarist Brian May, of the legendary rock group Queen.
Competitors play on an invisible instrument that can be electric or acoustic or both.
dena at 12:54 AM
14 Comments