Thursday, August 25, 2005
Grrrrrrr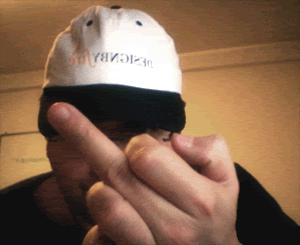 Have you ever been so pissed off, that you feel the heat in your face, your eyes start to water, your temples start thumping, and you feel like smacking the cause of it all across the face.
My husband, is an ass. Sure, I know his back hurts, but....he cooked a ham steak, scalloped potatoes, scrambled eggs, mashed potatoes, and ate out of at least four other dishes. My point, you ask? He left three dirty pots, three tops to the pots, several dishes and bowls, several glasses and a plethora of utensils in the sink...DIRTY DISHES IN THE SINK MAKE ME NUTSO ! ! ! And when I walk in after working all day, he says, "just leave it. I'll do it in a little bit." Well, I can't just
leave
it. It drives me nutso, whacko, turns me into a crazed lunatic. And so I clean it, and as I do, I get even more pissed off, because if he is capable of making such an enormous mess, then he's fucking capable of cleaning it up. I finish. I want to watch the news...ALONE. He follows me into the room, and makes a smart ass comment about Cindy Sheehan, and how she had nothing to bitch about. Anyone that knows me, knows how totally against this war I am, and have been from the day the possibility of it was mentioned. The comment causes me to erupt, and now after my political spew off to him, I am furious, furious, furious.
I wish
Soapbox
would hurry and call so we can do our Target run. I need to get out of this house before I kill him.
I feel better now.
dena at 5:43 PM
7 Comments