Monday, August 15, 2005
fabulous...in a ghetto sort of way
Today I sat in traffic at the intersection of Holland and Lynnhaven. Oh yeah, good times. Saw a few signs strategically placed on opposite corners, and then further down Holland - "Affordable Hairbraiding 468-3216", and thought about getting Cristin a cool gift certificate for her birthday. But then I'd have to get her a trip to the nail salon. But what an ethnic b'day that would be - braids, nails and mexican food. She'd be representing the african american, the vietnamese and the hispanic populations.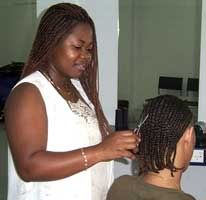 dena at 3:05 PM
2 Comments
at 5:38 PM spoiled-grrl said...

at 9:02 PM Atomic Bombshell said...