Sunday, August 14, 2005
The End of it all.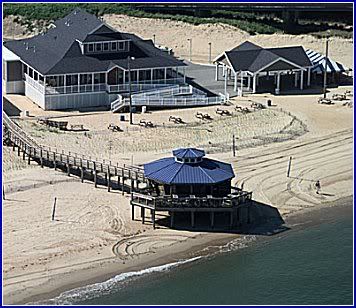 This weekend marked the closing of the Duck-In...THE place for Friday after-work parties on the bay. But more important than the after-work parties is the fact that this is the end of an institution. Build in the 50's, and owned by the same family today, the Duck-In was originally a dive style seafood place. When I was a late teen we would go to the Duck-In at 2:00 in the morning for shrimp baskets. Wood planked floors and waitresses in their 50's that chewed gum, sported bee hive hair-dos and told us to shut up when we got too rowdy graced the place. And now it's all coming to a bittersweet end. Of course over the years the place has made huge building improvement and the patrons are a little classier, but in my opinion it lost its charm.
Back in the day, people who lived on the Bay were considered low-rent. They were even excluded from the North End sailing regattas, and the bay people started their own regatta, lovingly called "The Low Rent Regatta", and it flourished, just as the property values and the size of the houses did.
Back to my story about the closing. I didn't go. Cristin, however, did. Our lifeguard has been bugging her to go out with him since the early part of the summer, and finally, she agreed. I think the promise of a limo ride to the final Duck-In party had quite a bit to do wtih it. She was able to bring one of her friends and the little group ended up as a total of 7. Four cute girls, one jock (attends Harvard) (the lifeguard) with a nice body but wearing an Hawaiian print polo shirt (which her friend begged Cristin to ask him to change), an Asian guy (attends Princeton) that my daughter swears was gay & wore a white polo shirt tucked into pleated pants, and a black guy (attends UVA) that she said was 6'5" and 350 pounds. So picture it if you will - 4 beachy girls and three braino-nerdos who will one day be something, but when you're 20 have no real sex appeal. And so, I used that line that my mother used, "you didn't like them because they're have a future", smirking to myself as I repeated those words. Her reply was, "I like surfer boys or guys with lots of tattoos and piercings", and I smiled at how she's not that different than me.
Farewell Duck-In. Farewell, the view of the sunset. Hello to more condos that will take away yet another stretch of our beaches and perhaps, the last public view of the sunset.
dena at 7:47 AM
9 Comments