Saturday, August 13, 2005
Celebrity Sighting...
Well, sort of.
Last week I went to Vegas for a B'day party. One of the guys at the party flew his girlfriend in to meet him, and this is who she was: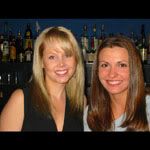 It's Gwen, from The Bachelor. She's co-written a book with Helene, the girl Aaron chose over her.
People who know me know that I'm a Reality TV Fanatic, but what sucks is that I didn't find out she was Reality TV person until tonight - days after I met her.
dena at 8:33 PM
7 Comments