Tuesday, June 28, 2005
Tuesday 10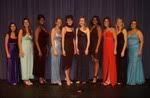 Eight truths, two lies. You guess.
I've jumped off the Chesapeake Bay Bridge.
I lost my virginity at 17.
I shamelessly seduced my husband the second time I was around him.
I have three kids, two girls and a boy.
My favorite actor is John Cusack.
My favorite band is The Clash.
I have one brother, and I'm the youngest child.
I love movie soundtrack CDs.
I drive a Lincoln Towncar.
I'm a half-breed – half Greek, half Scottish.
dena at 9:07 AM
1 Comments
at 6:15 PM soapbox.SUPERSTAR said...