Friday, June 03, 2005
The simple things make me happy...
I happen to love my new $5.00 Old Navy flops.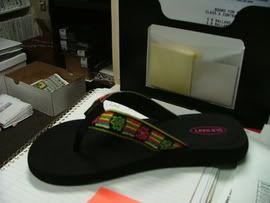 dena at 7:53 AM
3 Comments
at 9:42 AM soapbox.SUPERSTAR said...

They look like Rastafarian shoes - do you feel like you should be listening to Bob Marley when you wear them? Do you want to meet at the mall today and look for one of those hats with the fake dreads you can wear?