Saturday, June 11, 2005
Martini Madness
The Sour Apple Martini
Ingredients
1 oz vanilla flavored vodka
1 oz sour apple schnapps
1 splash sweet and sour mix
Or
2 parts Sour Apple Pucker
2 parts Ketel One Vodka
1 part Cointreau Orange Liqueur
Serving Instructions
Shake with crushed ice.
Strain into glass.
Serve the sour apple martini in a martini cocktail glass
Garnish with apple slices.
You get the picture; you can imagine that wonderful taste, right? Can't you just picture yourself sipping one of these on an outdoor patio on the boardwalk? The sound of the Atlantic Ocean's waves breaking in the background. A little reggae music as a backdrop to your conversation with friends. Sure, the kids are with you, but they're happily talking amongst themselves. You savor the delicious meal that was just placed before you, while a gentle Ocean breeze blows at your hair. Gosh, how lucky. People pay to come to this beach, and we live here. It's a vacation every single day.
NOT...NOT EVEN CLOSE.
Picture this instaead:
Apple Martini
ALL PARTS VODKA with a SPLASH of something green. No, make that a drop of something green.
You take a sip, and almost choke from the strength of the cheap Vodka that burns your throat. The kids are climbing on the rails like spider monkeys in a zoo. As for the background music. We got some over-the-hill hippy that admitted he wrote his songs as he was actually playing them. Believe me, no one would admit to that. Obviously his brain was fried from too much LSD. He should have stuck to the ganja, and maybe he would have been seranading us to a more tropical sound. The wind is blowing at almost hurricane force, and you feel the need for a wool sweater. The food? Ummm...no reason to even try to describe it. And then comes the bill, and all you can say is WTF...
All I realy wanted was a really good Martini, and they couldn't even get that right.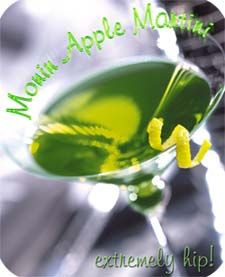 dena at 7:50 AM
2 Comments
at 4:30 PM soapbox.SUPERSTAR said...

And after all that... your husband won't even let you stop and get a fucking Ben & Jerry's ice cream. All I have to look forward to now is going home and trying to get the knots out of my hair since the wind was blowing at Tropical Storm force.

Good Times...same time next week?